Honda Body Shop Phone: 630-810-4330
Emergency Towing: 630-271-0531
Body Shop Location: 2117 W. Ogden Avenue, Lisle, IL 60532


Our knowledgeable and friendly Honda of Lisle auto body repair staff are ready to assist you with your collision repair needs. We offer a state-of-the-art body shop facility with Honda Certified auto body technicians, trained to restore your Honda vehicle to mint condition. Honda of Lisle's Collision Center has the latest technology and resources available to ensure customer satisfaction every time. Let our auto body shop technicians show you why we are one of the top-rated collision centers in the greater Chicago area. Your car, truck, or SUV will look like it just came off the assembly line when our team is done with it. For the highest quality auto body shop in the area, come down to Honda Superstore of Lisle.


Schedule an appointment using our convenient online body shop appointment form, or contact our auto body repair shop by phone at 630-810-4330
. We are located at 2117 W. Ogden Avenue, Lisle, IL 60532.
Lisle Auto Plaza Body Werks Hours:
Monday 7:30 am – 4:00 pm
Tuesday 7:30 am – 4:00 pm
Wednesday 7:30 am – 4:00 pm
Thursday 7:30 am – 4:00 pm
Friday 7:30 am – 4:00 pm
Saturday Closed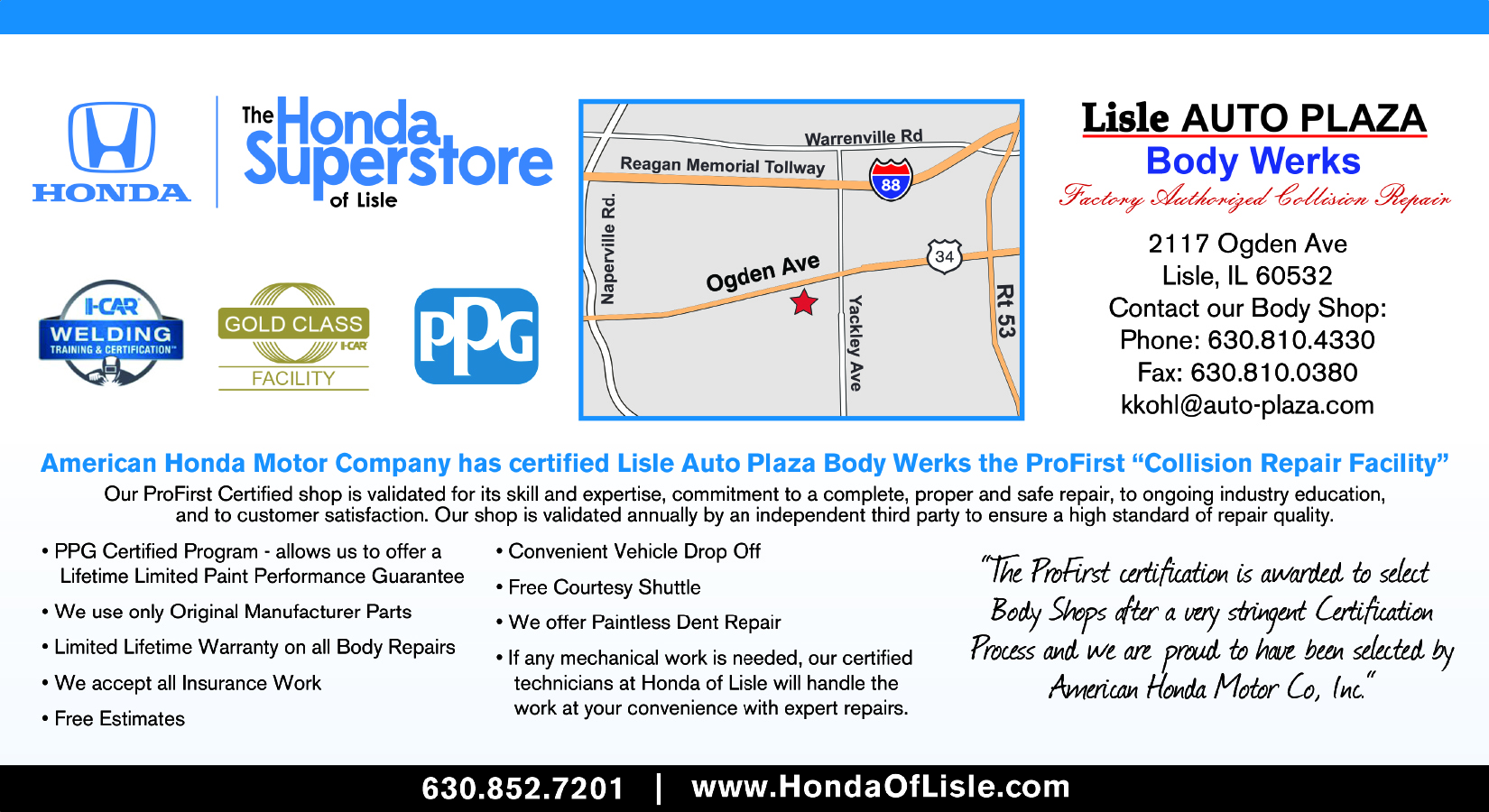 Lisle Auto Plaza Body Works – Complete Collision Repair Facility
A State-of-the-Art Repair Center – Honda & Volvo of Lisle as well as Infiniti of Clarendon Hills & Infiniti of Naperville – Chicago, IL Region Collision Repair Fortunately, most people don't need auto body repair services often. Unfortunately when you do, it's not always easy to know which repair center to use.
Until Now!
Lisle Auto Plaza Body Works is a proud participant in the Certified First TM and a preferred repair facility for many top insurance companies. This means we have met stringent criteria for facilities and amenities including having the latest technology in repair equipment, trained technicians and a staff that is committed to your satisfaction.


Lisle Auto Plaza Body Works offers the following for your piece of mind:
Three Year Written Warranty
ASE & I-Car Certified Repair Technicians
Micro Filtration Air System
Garmat USA TM Down Draft Paint Booth
Chief Frame Pulling Station
Velocity Laser Frame Measuring System
No Aftermarket Parts Used (We only use factory replacement parts)
Complementary Vehicle Detail when completed
Free Estimates
Fast Turnaround Time


Visit our State-of-the-Art Body Shop exclusively for:
Honda of Lisle
Volvo of Lisle
Infiniti of Lisle
The Used Car Superstore of Lisle



Additional Information
State-of-the-Art Facility
Enjoy our comfortable waiting room with Cable TV, magazines, Lazy Boy recliners, Wi-Fi, and more.
Garmat USA TM Down Draft Paint Booth: We have an innovative facility with designated mixing and paint rooms to be contaminant free.
Our Certified Technicians are the best in the business.


PPG Lifetime Paint Performance Guarantee
The PPG Lifetime Paint Performance Guarantee gives consumers worry-free assurance that their vehicle receives a quality refinish and that all products used are state-of-the art and will perform to optimum standards for gloss and durability.


What's Covered?
The PPG Lifetime Paint Performance Guarantee covers the areas of the vehicle refinished with specified PPG products for as long as the customer owns the vehicle. The refinished areas are covered for the following paint failures.
Peeling or de-lamination of the topcoat and/or other layers of paint
Cracking or Checking
Loss of gloss caused by cracking, and hazing
Any paint failure caused by proven defective PPG automotive products which are covered by the guarantee


Paintless Dent Repair
Paint-less dent repair is a method of extracting minor dents (door dings and hail damage) without disturbing the factory finish. This is achieved without the use of conventional auto body methods, like sanding, body filler or paint. Paint-less dent repair is really an art form of metal shaping and shrinking.


Why is Paint-Less Dent Repair so Effective?
Paint-less dent repair costs a fraction of conventional body and paint repair
paint-less dent repair does not damage the original factory finish
It saves you time and most repairs can be completed within hours.


What To Do In Case Of An Accident
One in eight is pretty high!


According to the National Safety Council, one in every eight drivers will be involved in a motor vehicle accident this year. That may mean you! Are you prepared? Would you know what to do and what questions to ask?
Here is a list of 11 easy steps to remember, as compiled by the National Safety Council:
Stop your vehicle if it is clear, safe and legal.


Move the vehicle out of the traveled roadway, if it is clear, safe and legal. (In some states it is against the law to move the vehicle from the place where the accident occurred. Check the ordinance in your area.)


Turn off the ignitions of the cars involved.


Make a first aid check of all persons involved in the accident.


Call the police and, if necessary, emergency medical services
.
Mark the scene of the accident with flares or retro reflective triangles.


Gather the names of all persons in the motor vehicles and people who witnessed the accident.


Make a quick diagram of where the vehicle occupants were seated and indicate the vehicles' direction of traveland lane. Also note the date, time and weather conditions.


Ask to see the other driver's license and write down the number.


Exchange insurance company information. DO NOT discuss "fault" or make statements about the accident to anyone but the police.


Get a copy of the police report of the accident from the local precinct.